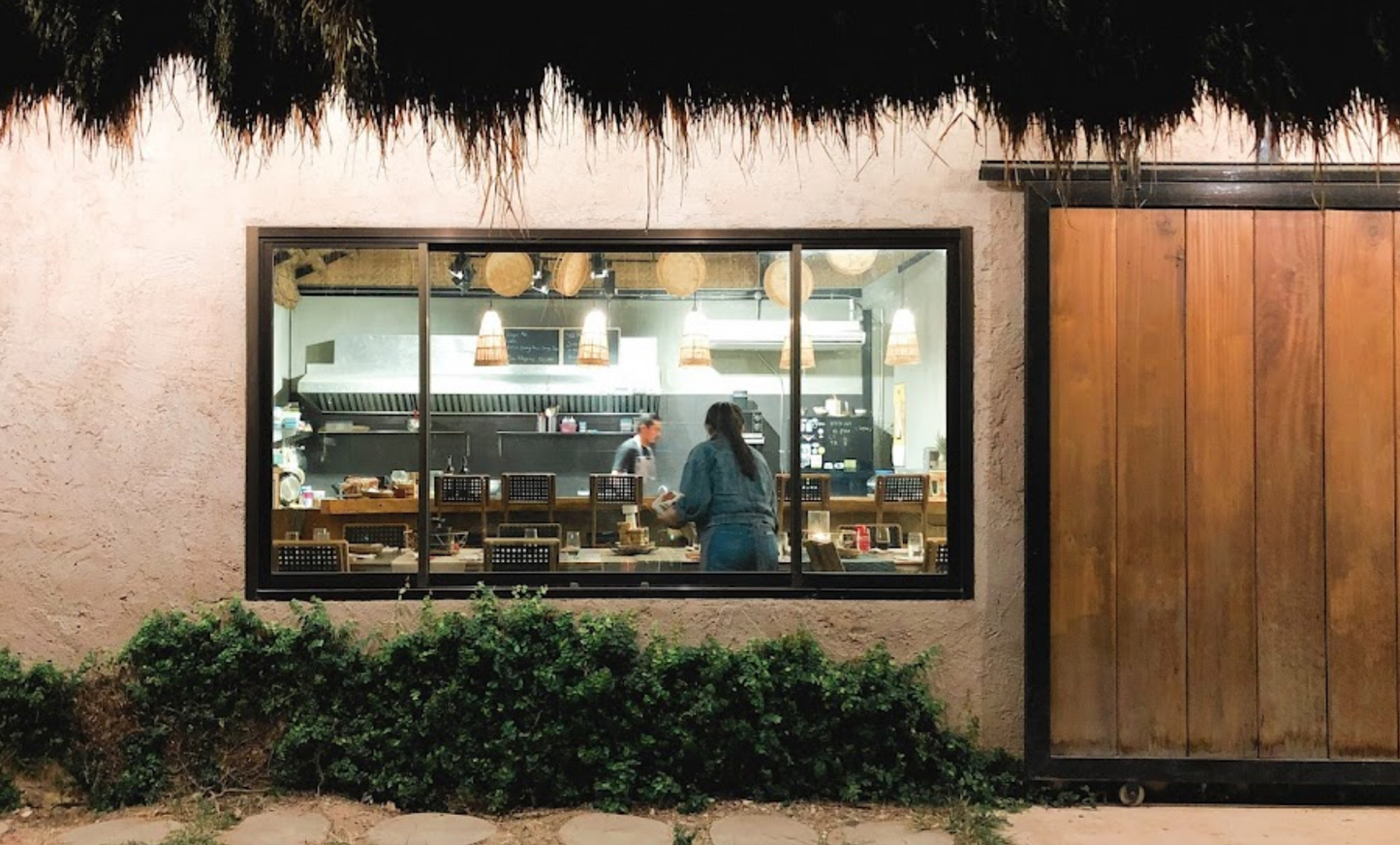 High up in the north of Thailand, close to the border with Myanmar, you can find Chiang Rai. A small city in the mountains, surrounded by many tea and coffee plantations. Chiang Rai is also called the new Chiang Mai, and there's no lie about that. Chiang Rai is a real diamond in a cave! At first, it can be a bit unclear what the city has to offer, it seems like there's only one main street full of tourists, but that's only its cover ;). Chiang Rai is full of gastronomic gems, you just need to find them! But I'll help you out with that. Tip: rent a scooter or a car, as all the good spots are a bit scattered.
I've lived in Chiang Rai for almost a year and have returned many times.  It has such a special place in my heart, I could live there forever. At the bottom of this article you will find my Google Maps link with all of my saved places. But first, a summary of my 10 all-time favourite local restaurants and (coffee) bars in Chiang Rai:
Locus Native Food Lab
Without doubt one of the most unique Thai restaurants I've ever visited. Hidden in the forest,
Locus Native Food Lab
 is a real treasure and definitely a must-visit if you have a gastronomic heart. This 10 pax restaurant is run by Chef Khung, the one who will also explain each dish with a 
beautiful, almost bedtime-like story.
He prepares only traditional northern Thai dishes, the kind of food his grandmother would make, but with a modern twist. Very unique and delicious dishes that you would never see or eat otherwise.
As the world modernises and (Northern) Thailand gets more and more tourism, he feels it is important to keep traditional Northern food alive.
If you plan to go there, be sure to call or email him well in advance, as he is always fully booked.
2. Agape coffee (former Becheggu) 
As a lot of arabica coffee is grown in the north of Thailand, you can find many good coffee places in Chiang Rai.
Agape
is definitely one of my favorites! They use their own grown coffee beans, have plant-based milk (not always that common in Thailand) and have the sweetest staff. They also serve very good Matcha latte, one of the better ones!
Opposite Agape, you will find "The Underdog", a Muay Thai-boxing gym. Bank, the owner, is the best trainer around and even if you just want to try one (private) class during your stay, you are more than welcome! Yes and after training, you will need that coffee.
3. Le Petit Cafe
I love it how Jazz Music is so populair in the North of Thailand. Le Petit Cafe is a beautiful fancy-ish bar where you go to on Friday or Saturday evening, after dinner, to enjoy live Jazz music with a glass of wine and a cheese platter. Seats are limited, so advance reservations are a must as it's always fully booked (by local Thai, not by tourists). You get your own sofa with a table, opposite the jazz band and end up enjoying a good glass of wine in Asia. Please note that the wines are not cheap, as there is a high tax on alcohol in Thailand, and of course because they have to import it. 
4. Moom Mai
Definitely

the best Thai food ever! And again, mostly full with local Thai.
 I'm sure that whenever you walk into the restaurant, you'll get an instant smile on your face ;).
The garden in which the restaurant is located is fully decorated with thousands of these head-shaking-cat-thingies. Tip:
 i
f you like fish, don't miss the steamed fish in pots, it's one of their best dishes.
Moom Ma
i, great food, great vibe! 
Note: the staff doesn't speak any English, so sign language is the way to go. Point out what you want to eat, and if you want to have a vegetarian option, your favourite word is: "jay" = vegetarian.
5. Tamachat Vegetarian Restaurant
This
simple restaurant
is everything you desire as a vegetarian
, perfect for a quick and cheap lunch. It's difficult to find a
 vegetarian Thai deli, so they are unique on its own. Their food is reaaally delicious, prepared with much love by the two ladies who own the place. It's only open for lunch and they close when they're sold old, so don't go too late. 
Tip: they also sell veg curry paste, without MSG or any pesticides/preservatives. Perfect to take home!
6. Por Jai Restaurant
At Por Jai, they serve a typical soup from the north of Thailand called Khao Soi. I grew up in Thailand, but strangely enough, I had never heard of this soup until a friend brought me to this place and wow.... what I have been missing all these years! This is absolutely my favorite Thai soup, and this restaurant is the place to go for the best bowl of Khao Soi! Por Jai is a very simple and traditional Thai restaurant and always full (reservations are not needed, people come and go). The place is owned by the sister of the architect of the White Temple, so you can find many paintings inside. It is the perfect place for a quick and cheap meal. Open from morning till evening.
7. Om-La-Mai Ice Cream
If you are an ice-cream lover, be sure to visit
Om-La-Mai
. They have homemade, organic, vegan and sugar-free ice cream. But my favorite part is that some of the flavors she makes come from her father's vegetable garden. If you are craving for ice cream, this is the place to go :)
8. Chivit Thamma Da
Whenever you are in the mood for western food (they also have good Thai dishes), a special night out or a perfect place for brunch, go here! The food is amazing and the ambiance is absolutely beautiful! Imagine a romantic white Swedish lake house, transport yourself to Thailand and you are at
Chivit Thamma Da
. It's located alongside the river is owned by a Swedish guy, who runs this place together with his Thai wife. I would recommend their place for any time of the day, both brunch and dinner are great. During the day you have a beautiful view over the garden and the lake and in the evening the place is beautifully lit with candles.
9. Give Green Farm House Restaurant
At Give Green Farm House you get a real farm-to-fork experience, as all the ingredients come from their own organic farm.
You see the owner Garn cutting the vegetables for your meal from its own garden. It's needless to say that they have a
mazingly fresh and delicious food, but also very kind staff!
10. Peace House Bar
If you are in the mood for some music and a drink on a Friday night, Peace House is a good place to go. They have live music (mostly reggae) every Friday, the band varies from week to week but you can always expect something good!
 
Here you can find my shared Google Maps link, I've saved all my favorites from Chiang Rai in that folder. Enjoy your time in Chiang Rai! And if you have any questions about Chiang Rai, just drop me a message!
Love,
Robin