Manifesto
At Saucha we are standing for Purity, Cleanliness and Clearness 
Purity: pure intentions, pure connections, pure products
Cleanliness: working towards a cleaner world via 100% natural skincare, plastic collection and 100% recycled packaging 
Clearness: transparency within everything we do and stand for
We are committed to supporting micro-businesses and small-scale farmers in Asia, by (re)connecting people to pure products. We aim to empower one to make more conscious, ethical and sustainable choices, keeping oneself and its surroundings clean. All our products are 100% natural; no hidden chemicals and impossible-to-read ingredient lists. Just safe, active and organic ingredients of familiarity, produced by mother earth. Only the best ingredients are being used, containing rich nutrients for the body, resulting in high-performance products.
Who are we
We is me (Robin) and a couple of wonderful partners all over the world. Throughout the years, my path crossed some incredible Asian skincare-creators and in 2017 the idea came to join our forces. It quickly started to become a real community of small entrepreneurs and small-scale farmers, leading to the social enterprise as we are today. Many small entrepreneurs in Asia have a lot of knowledge regarding herbs and other natural wonders translated into natural skincare, however, do not have the resources or reach to share this with you all. Through Saucha, we want to give them a stage. Many years of great friend/partnerships, formulating and testing followed. We bundled our knowledge and passion together and consciously curated products that we loved. We create and share our recipes together, whereafter Robin handcrafts each and every product in small exclusive batches in Amsterdam - ensuring the highest quality within every batch. 
We are one and therefore, we've always believed that we are better together. 
We aim for a world where trade is a driving force for positive and sustainable change benefiting people and their environment. We therefore take time to find the right partners and time to truly connect with them.
The reason why we don't just resell is so that our partners can fully focus on their own business, while expanding elsewhere in the world. Moreover, this way we are able to provide quality control and sustainable packaging while creating products made of organic ingredients, carefully collected from small-scale and fair-trade farmers, compliant to the European Law. For every sold product, 10% commission goes straight to the partner with whom I co-created the formula. By excluding most of the middle man (wholesalers), we create a shorter supply chain, resulting in a lower footprint and higher profits for the farmers. 
We truly hope you can feel the passion and love when using our products! They are made for you.
We are proud to contribute to a plastic-freer Asia. It took us nearly three years to find the right partners who could help us to collect, recycle and transform the plastic waste into recycled cosmetic-proof bottles. Our bottles are made of 100% post-consumer recycled plastic mainly collected from South-East-Asia, there where cleaning is of highest importance. Besides that, with every product purchased you are double contributing to a plastic freer world, as we also collect 1kg (equal to 50 bottles) of ocean plastic for every sold item. 
Thanks a lot for having a look into our brand, it means so much more to us than you probably think! 
Love, 
Robin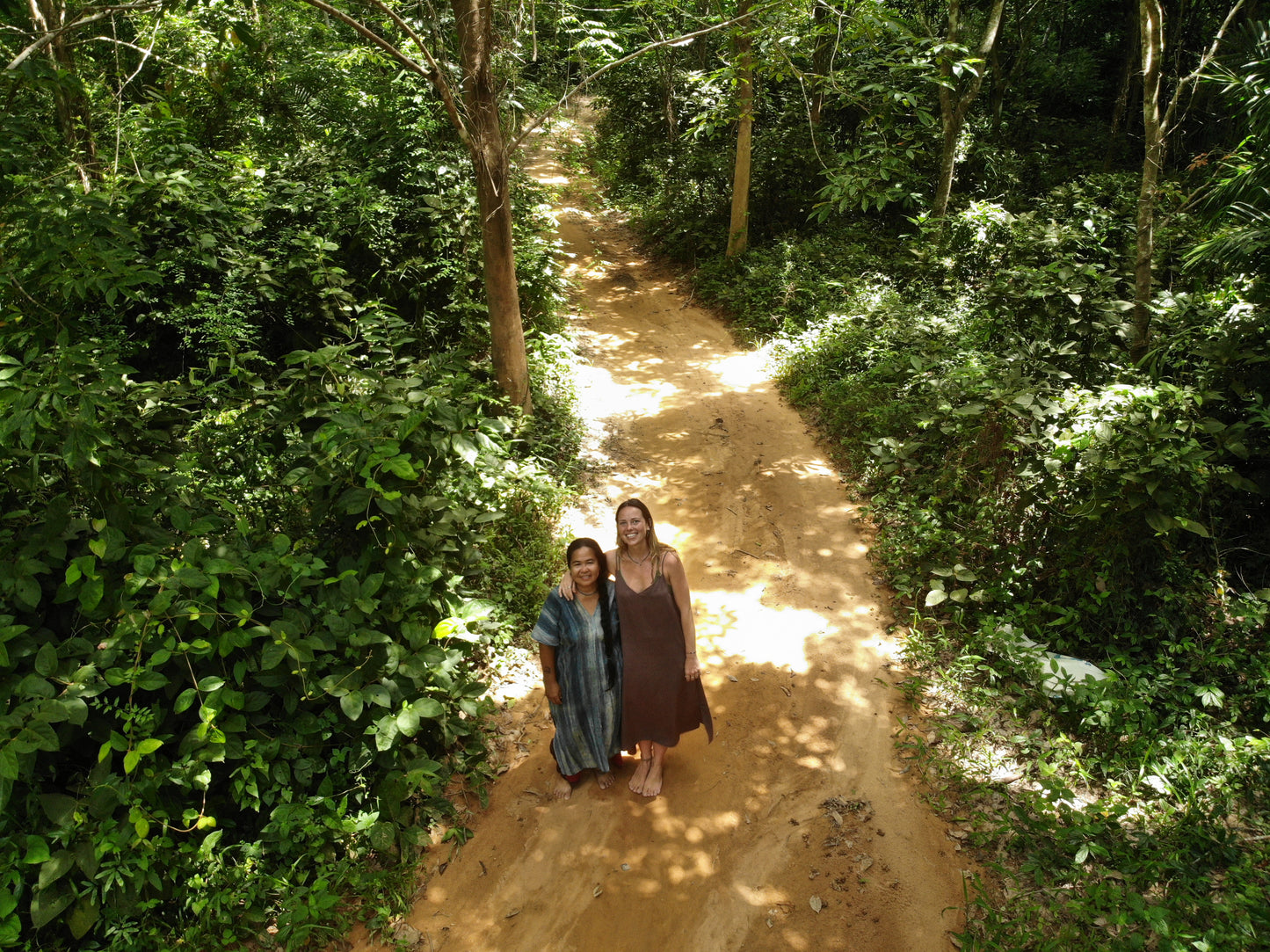 Meet our founder
After growing up in Thailand and living there later in life again to work at a sustainable resort in Chiang Rai, Robin had met many small yet great skincare formulators from Asia. Inspired by their knowledge of herbs and close connection with nature, she felt their knowledge and Asia's many great skincare ingredients should be shared with you all.