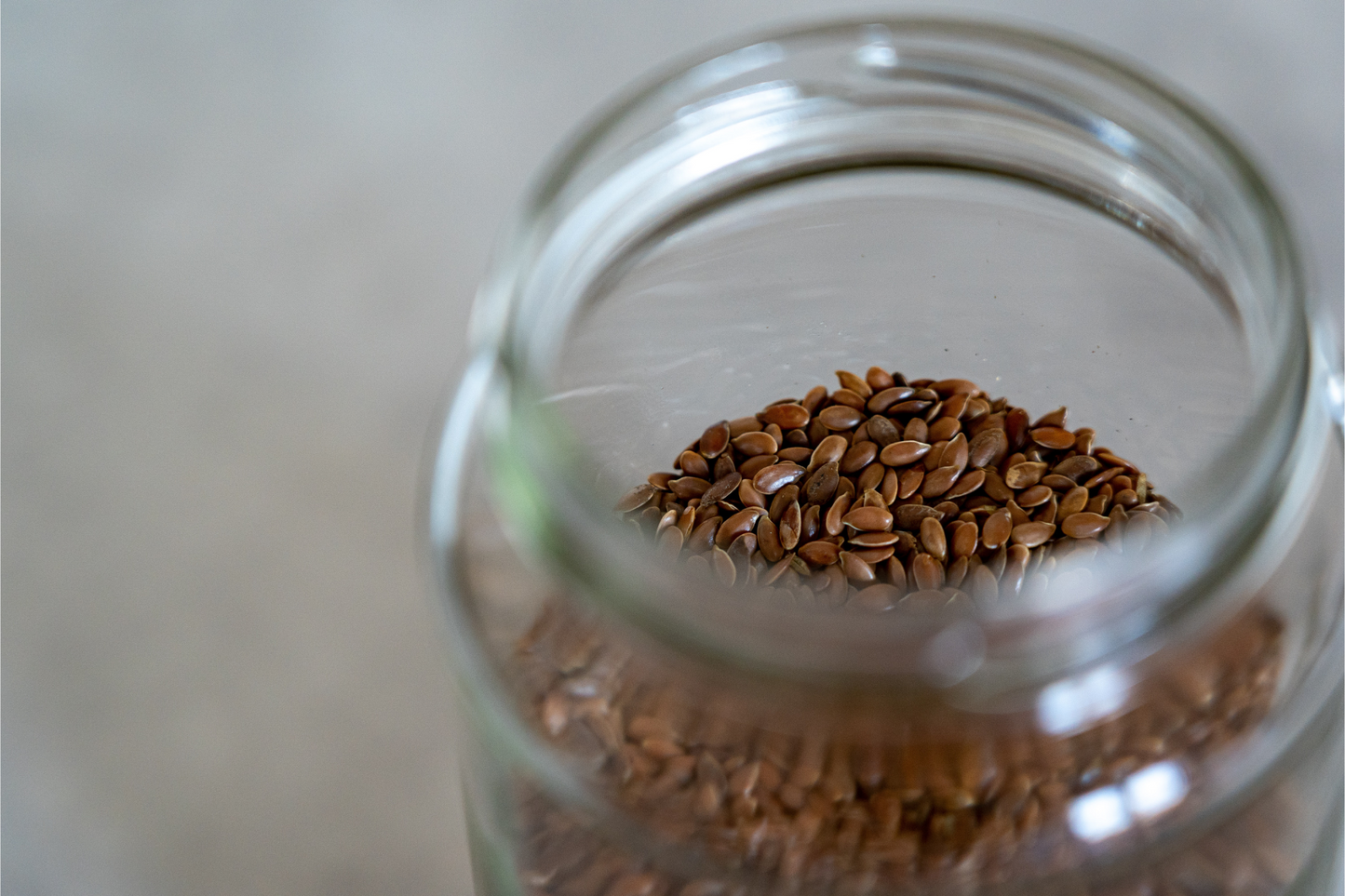 Looking for ideas to up-cycle your empty jar? ♻️ 
While we are working on a smooth carbon-neutral refill system, we want to provide you with some fun and creative up-cycling ideas for your empty jar. We've got plenty! There are too many fun ideas on how to up-cycle the jar, it's a waste to just throw it away. Some crafting is also very nice to create some headspace and be away from a screen for once.
Before we start, clean the jar properly. You can use a sponge and our organic Castile soap very well for this. Tip: it's best to dry the jar using kitchen paper.
We've compiled eight creative ideas to upcycle your empty jars. From creating a beautiful tea-light holder to making your own fermented vegetables, there's something for everyone to try. So, grab your jars and let's get started!
1. Fill with soil and plant a bulb
The glass jar is perfect for sowing a small plant, such as these organic wildflowers. Another great idea is to sow your pot with this organic bee mixture, this way you will help bees and butterflies to a better habitat. The flowers are beautiful and it's a good deed for nature too.
2. Make your own happiness jar
Write down your highlight of the day on a piece of paper, roll it up and put it in the jar. Whenever your jar is full, or whenever you have a down day, just look back to all your highlights of the past months and I'm sure that will put a smile (back) on your face. 
Another idea is to store some of your favorite gemstones in the jar. If you add some soil to the jar, it can directly serve as a gemstone neutralizer. 
3. Make your own fermented vegetables
Fermented foods are full of probiotics (beneficial bacteria), which make your gut very happy and help with your digestion, immune system and overall health.
Great vegetables for the fermentation process are red and white cabbage, some carrots and apples. All organic, because you want the least amount of nasty additives possible. You don't need to peel the carrots and apples, but wash them well. Saucha's organic soaps serve as perfect fruit and vegetable cleaners. 
Wash and chop your vegetables into small pieces.
Add salt to the vegetables and mix/squeeze thoroughly until enough liquid has come out. You should use about 1 to 3 tablespoons of salt per pound of vegetables.
Take the chopped vegetables and add them to a clean jar, pressing them down tightly to eliminate any air pockets. Leave about an inch of space at the top of the jar.
Cover the jar with a lid or cloth, and let it sit at room temperature for 1 to 4 weeks, depending on your preference for sourness and texture.
Once the fermentation is complete, store the jar in the refrigerator to slow down the fermentation process and keep the vegetables fresh. Enjoy your delicious and probiotic-rich fermented vegetables!
4. Make your own organic stick diffuser
Artificial fragrances are unhealthy to breathe in day in and day out. So why not make your own safe and organic reed diffusers for a natural fresh scent in your home? They are cheaper and safer than commercial diffusers, and you can create your own favorite blends of essential oils.
1. Drill a hole in the lid of a circumference of about 1cm
2. Fill 1/4 of the jar with almond oil
3. Add a small amount of vodka (yes really!) to the oil to dilute and bind the oils, making it easier to pass through the reeds.
4. This is where your personal touch comes in! Get creative and add different essential oil blends to the jar to create lovely aromatic infusions. Use around 15 drops of essential oil for this jar. Here's a list of different essential oil blends you can try.
5. Use these traditional reeds to 
help the oil travel up the stick to scent the room.
 If you use bamboo skewers with an oil base, the oils just won't be able to travel up the sticks. Make sure your reeds are about twice as tall as your jars so they can distribute the scent well.
5. Supplement storebox
Are all your different supplement jars taking up too much space in your travel luggage? Use this jar as a storage box for your supplements whenever you travel!
6. Store your (own grown) seeds & spices
Reuse your jar to store your seeds or spices like chia seeds.
P.s. Did you know you can quite easily grow your own spices?
7. Transform the jar into a pretty tea-light holder
Transform the jar into a pretty tea-light holder. Paint it for a nice light effect or tie a string around it so you can hang it in the garden.
8. Earbud container
Last but not least, the classic but always useful: use the jar as a container for your earbuds.
Rather recycle? 
Would you rather recycle it? The jars can go in the glass bin and the aluminium lid in the bin for plastic, cans and drinks cartons. Glass and aluminium can be recycled indefinitely.
Up-cycling your empty jar is a great way to reduce waste and get creative. Whether you decide to plant a bulb, make your own happiness jar, create a stick diffuser, or use the jar as a storebox, the possibilities are endless. Not only is up-cycling good for the environment, but it's also a fun and rewarding way to spend your time. So next time you have an empty jar lying around, think twice before throwing it away and instead, get your crafting hat on and start up-cycling!

Enjoy!
With love, Robin