Een heerlijke schone huid!
Na het gebruiken van het masker voelde mijn huid zó schoon, echt heerlijk! Ook zijn mijn onzuiverheden een stuk minder. Nog een voordeel; je doet super lang met een potje!
Thai Herbal Mask
Wat een fijn masker! Gemakkelijk aan te brengen en met de instructies van Robin maak je precies de juiste hoeveelheid voor je gezicht& hals. Je hebt maar weinig nodig, dus met dit potje kun je aardig wat maskers maken! Mijn huis voelt erna heel rustig zacht en egaal aan, erg fijn. En de geur is top!
Heerlijk masker!
Zodra je het potje opent ruik je de kruiden, alsof je in de natuur bent. Die geur blijf je ook ruiken terwijl het masker intrekt. Het masker zet de huid aan tot 'werken'. Nadat ik het masker eraf haalde was mijn huid zo mooi doorbloed, heel de avond was ik rozig en warm. Én mooi extraatje is dat je poriën veel fijner worden. Heel mooi product Robin!!!
Geweldig masker
Echt een geweldig product! Het masker voelt als een treat voor m'n huid, niet alleen tijdens gebruik vanwege het feit dat het product zo puur en natuurlijk is, maar ook erna: het maakt m'n huid zo zacht! Nog nooit zo'n fijn natuurlijk masker gehad.
Doordat het masker op poeder basis is (super vanuit duurzaamheidsoverwegingen) moet je het zelf aanmengen, met de instructies van Robin gaat dat ook top!
ZO fijn op mn gevoelige winter-huid
Het masker cadeau gekregen voor kerst en in love ever since! Moest even wennen aan de geur, eerlijk-is-eerlijk het ruikt mega healthy en kruidig, duidelijk pure ingrediënten ;)
Mijn huid is 's winters altijd heel gevoelig: droog, snel rood en trekkerig. Dit masker voelt mega fijn aan tijdens het aanbrengen en intrekken maar het grootste verschil zit gewoon in de dagen erna: mn huid is rustiger, minder trekkerig en heerlijk zacht. Heeeeel benieuwd naar de resultaten op lange termijn😍
How to use
1. Cleanse face thoroughly with our Organic Castile Soap
2. Blend 2 teaspoons of herbal powder with 1-2 teaspoons of (toner)water
3. Gently massage the mask onto your face as a mild exfoliant, leave the mask on your face for the next 10-15 min
4. For ultimate effect, moisturise the mask regularly with a facial mist
5. Rinse off with lukewarm water and then apply our nourishing Holy Balm. Use once or twice a week.
Apply a bit of the Holy Balm on a damp cotton pad to remove any excess mask from the face
Mix it up: 5 Ways To Activate Your Thai Herbal Mask
You can mix your Thai Herbal Mask with many different ingredients to achieve the best results for your specific skin type needs. The big advantage is that you probably have most of these ingredients in your kitchen, so you can easily try out the different options and discover which one works best for you. Check out the blog below to discover 5 of our favourite options to activate the Thai Herbal Mask with.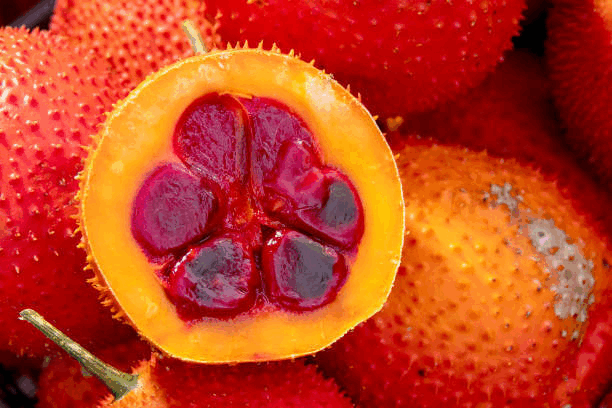 What the Gâc?
I bet you've never heard of it - Gâc fruit. In Asia it's known as the mother of all superfruits, or the fruit from heaven. Power-packed with antioxidants to achieve healthy, youthful and glowing skin. We consider it as one of the most important elements of our Holy Balm and Herbal Mask. Read our full blogpost to see why: