Liquid Gold
Ik gebruik sinds kort zowel de Saucha cleanser als de balm voor mijn gezicht. Ik overdrijf niet als ik zeg dat het voelt alsof ik 'liquid gold' op mijn gezicht smeer wanneer ik de balm gebruik. Echt een prachtige gouden kleur met kleine glinstering erin ✨ De balm heeft geen uitgesproken geur, slechts een hint van de warme tonen van de werkzame natuurlijke ingredienten Ook de cleanser voelt heel fijn aan. Een hele kleine hoeveelheid is al genoeg om mijn gezicht, nek en hals te reinigen. Laat je gezicht zacht en gevoed achter, totaal niet trekkerig of droog wat vaak het geval kan zijn bij (natuurlijke) cleansers. Ook de verpakkingen met hun prachtige warme kleuren resoneren helemaal met de inhoud, echt een lust voor het oog! Ik kijk er elke avond en ochtend weer naar uit om mijn huidje te mogen verzorgen💫
Nourishing and Profound
I am so grateful for this beautiful balm. It is not only deeply nourishing for the skin, bringing it zest and vitality, and making my eyes sparkle and shine; it also feels grounding and supportive to my whole being (as one feels with a healing body treatment), even though I only use it on my face. Every layer of my being feels supported by Holy Balm, not just the physical. From the fruits, so full of vitality, to the healing salves made of them, Saucha creations have passed through precious sets of hands all along the journey, organic, fair, and full of love and healing. Thank you for this beautiful creation <3
Holy balm
Ik heb de holy balm nu ruim een maand , een fantastische geurende balm die ik voortaan voor mijn gezicht gebruik, ik ben 52 en mijn huid voelt zacht aan en heb geen trekkerig gevoel meer. Echt proberen !!
Heerlijke Holy Balm
De balm voelt lekker aan. Geen trekkerig gevoel. Ik gebruik het ook als dag en nachtcrème op mijn gezicht. Voelt heel schoon en fris aan. Alsof je letterlijk de natuur op je huid hebt. Ik gebruik ook het masker, dan ruik je echt de kruiden. Je huid voelt daarna ook heerlijk aan.
Perfect for everyone
Love this product!
It's that one thing that's always in my purse. I also love to give the balm as a gift.
Would recommend this product 5/5.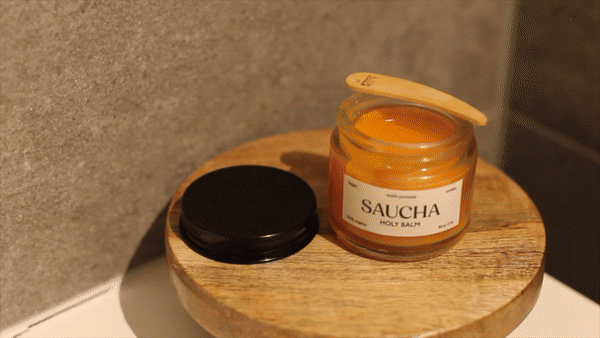 How to use
Take a small amount on Saucha's bamboo spatula or on dry fingertips. Gently massage onto the face, lips and the eye area. For ultimate result use after a facial mist. Our multi-purpose Holy Balm can be used as daily moisturizer, makeup remover, nourishing lip balm, hair oil, aftersun treatment, tattoo aftercare, diaper rash and nipple & belly balm. 
What the Gâc?
I bet you've never heard of it - Gâc fruit. In Asia it's known as the mother of all superfruits, or the fruit from heaven. Power-packed with antioxidants to achieve healthy, youthful and glowing skin. We consider it as one of the most important elements of our Holy Balm and Herbal Mask. Read our full blogpost to see why: