How to use: Thai Herbal Mask
1. Cleanse face thoroughly with our Organic Castile Soap
2. Blend 2 teaspoons of herbal powder with 1-2 teaspoons of (toner)water
3. Gently massage the mask onto your face as a mild exfoliant, leave the mask on your face for the next 10-15 min
4. For ultimate effect, moisturise the mask regularly with a facial mist
5. Rinse off with lukewarm water and then apply our nourishing Holy Balm. Use once or twice a week.
Apply a bit of the Holy Balm on a damp cotton pad to remove any excess mask from the face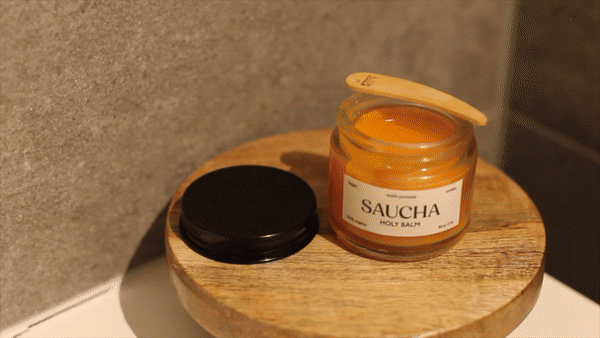 How to use: face balm
Take a small amount on Saucha's bamboo spatula or on dry fingertips. Gently massage onto the face, lips and the eye area. For ultimate result use after a facial mist. Our multi-purpose Holy Balm can be used as daily moisturizer, makeup remover, nourishing lip balm, hair oil, aftersun treatment, tattoo aftercare, diaper rash and nipple & belly balm.